JACO COSTA RICA CANOPY TOURS
Welcome to the adventure Canopy Tour, Slide through the trees and see the wonder of the jungle of Costa Rica in this amazing adventure. Each is equipped with a new harness, double pulley system, parking brake, helmet, three lines and automatic and semiautomatic rifles.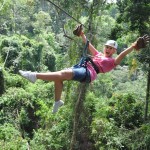 The tour consists of a line of 10, 15 including two reminders platform that gives you a first hand experience of what the forest has to offer. With minimal work required, this tour is completely appropriate for children 4 years and are welcome, with the support of tutors! Read More about Jaco Zip Line Adventure 
Includes: Transportation from Hotel in Jaco or Herradura, water throughout the tour and some fruits end..
Needs: tennis shoes, insects, towel and insect repellent, shorts (recommended)
Price: $ 75 per person 
Schedules 8: am 10: am 1:pm 2:pm